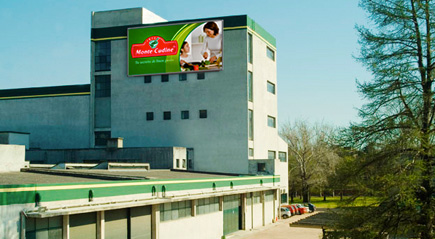 Company
Since the start of our company, and over 140 years, we have accompanied several generations of Uruguayan consumers with our products. Generations that have grown up with the legacy of MONTE CUDINE and now enjoy new flavour solutions that cross borders and conquer new markets.
Our secret is to add all our experience, passion and technology to the processes needed for the production of products of the highest quality.
We appreciate your visit and invite you to join us on a journey of a natural flavour, the path of MONTE CUDINE
HOY

Present- Monte Cudine today

In 1996 the fourth generation of Bonomis took control of the company. For this reason, Monte Cudine is quite a rare example, if we consider that the same family has run the company for so many generations.

In June 2005, thanks to a great investment and team work, which were combined in order to improve the people's quality of life and to contribute to the growth of Uruguay, Monte Cudine opened his new manufacturing plant in Av Gral. San Martín 4751.

Without abandoning its innovative and expanding tradition. Monte Cudine continued leading the condiments' and spices' market, and at the same time managed to develop new products: a variety of different rices and flavoured pastas, white sauce, homemade and instant and cream soups.

1956

The company becomes more professional

Luis Carlos, the son of Luis G. had a solid technical education. He went to the U.S.A. to study Chemical Engineering at the M.I.T. Upon his return, he joined the company's technical department. Luis Carlos, following what he regarded as his father's successful skills, remained throughout his life within the spices and condiments market, a niche which ensured he could hold his leading position. Thus, managed by Luis Carlos, the company became the leader of the Uruguayan market, especially in saffron, essences, colouring agents, vanilla and spices. His technical engineering studies significantly contributed to his managing the company.

1940

From the Amaro sour drink to Condiments

Those were days of enormous development for the company. Amaro Monte Cudine turned out to be a popular trademark. Luis G. was a pioneer when he advertised in the press and posters. Well known people of the time, from football players to car race pilots took part in his marketing campaigns. Towards the end of the decade, the government implemented great controls over the making of alcoholic drinks, as an attempt to achieve a state monopoly. In view of this situation, the independent manufacturers of alcoholic drinks got together to establish Licorería Unida S.A. (LUSA). Luis G. Bonomi, one of the founders of the company, took his sour drink to this new company. Later on, this company was bought by Martín & Rossi. In this way, Luis G. Bonomi & Cía, finally concentrated on the spices and condiments business.

1900

New impulsions

In 1900 Gerónimo and Juan Bonomi set up the "Bonomi Hermanos" company in order to market national and imported wines, spirits and other products, as well as to be the exclusive distributors of the AMARO MONTE CUDINE Italian aperitif. At this time the company started to sell saffron, a product of significant importance in the River Plate, those days.

In 1910 the "Amaro Monte Cudine" and "Amaro Bonomi Hermanos" trademarks were very prestigious in the market. In 1923 Luis G. Bonomi, an entepreneurial spirit impelled the company adding a complete line of condiments, seasonings and food colouring agents for pastry, a field which is still the bases of the company today.

1870

The "Monte Cudine" brand is born

In 1870 he set up a company with Juan Lamaison, with the purpose of establishing a naval warehouse and a hardware shop. Six years later, he set up a company named "Giosué Bonomi" to continue selling naval equipment and tools, and he started selling AMARO, a sour drink, under the "MONTE CUDINE" trademark. At that time his two nephews Giosué and Gerólamo (Gerónimo) joined the company, and they would end up running the whole business.

In 1886, following a number of successful years, they opened business in Buenos Aires. Such company spread the Giosué Bonomi's house business and had the exclusive right to sell the Italian sour drink. For this reason, Gerónimo y Giosué settled down in that beautiful city. Juan, another brother, also joined the company, although he stayed in Montevideo.

1836

Early Days

The history of the Bonomi Company is almost as old as Uruguay. Giosué Bonomi was born in a little town not far from Milano, near Lake Magiori Lake and Mount (Monte) Cudine. His daring spirit led him to America, seeking for the opportunities the newly created American republics offered, and that is how he settled down in Montevideo.

In 1836, out of his savings, he bought a ship that had shipwrecked in the Uruguayan coast during a strong storm. Giosué broke it up and sold the useful wood, as well as other naval instruments. A second boat, which had also grounded on the coasts of the River Plate, followed this first boat. The success of these two commercial operations, made Giosué conclude that if there was a market for used wood, there would probably be a market for new wood. Thus, he began to import wooden boards. He was very successful and several other businesses followed. Giosué then opened a storehouse under the name of "La Barraca del Pontón".
Our Culture
MISION
To provide taste solutions to be used in the kitchen and on the table, which solutions shall be highly valued by consumers, and to contribute to improving their quality of life.
VISION
To be the top company in the MERCOSUR, leading the market in its field and going beyond the most demanding international quality standards.
Our clients and consumers will keep relying on us since we shall provide them with the best quality/price ratio, according to their preferences. We shall accomplish this by means of team work, and the appropriate planning and organization which will respond to any challenge presented by consumers or the market itself.
Creativity and innovation shall enable us to continue to lead the market, generating the best possible profitability for our shareholders and an environment which favours human growth, always respecting our suppliers and the community.
The values we will seek for and defend are the following:
- We manufacture healthy products.
- Our work environment will be human and it will offer equal opportunities for the people who work in the company.
- We will generate and preserve job sources.
- We will exercise our social responsibility and we will protect the environment.
- We will always aim at total quality, constantly improving processes and products.
The success of a company lies in its people, in their training and in their commitment with the company. Employees are the people who, with their effort, day by day, build the quality and success of products – at all levels.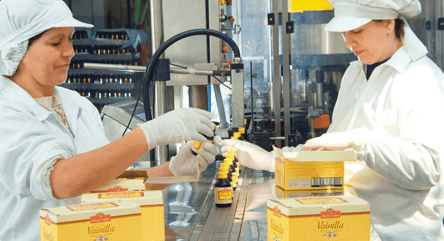 Production
Production is organized and controlled through the computing system, which allows us to guarantee an unequivocal traceability of all our products. Raw materials, supplies, as well as semi-manufactured and manufactured goods comply with established specifications that guarantee the quality of our final products.
Quality control is first applied to the raw materials and supplies that we use, and continues along the different stages of the process, by MONTE CUDINE's laboratory as well as by other renowned track record laboratories outside the company such as "LATU" ( acronym in Spanish for Uruguayan Technological Laboratory) if necessary. At the same time, a direct control is applied to the production itself, assuring the fulfillment of the established quality standards.
All production tasks are carried out by duly qualified personnel, who are constantly updating themselves and who work applying GMP (Good Manufacturing Practices). All our manufacturing personnel are aware of the responsibility they have in the final quality of our products.
Quality Managment
MONTE CUDINEoffers consumers products which comply with the highest quality standards. For this purpose, the company has implemented a Quality System based on the ISO-9001 standards and on the Constant Improvement of the National Quality Award.

Our strong commitment to quality is present throughout the company. Our manufacturing plant has a state of the art laboratory for quality control and development, which ensures we can provide consumers with a high and standardized final quality. For this purpose, it is essential to carefully select our suppliers and to control every process that takes place in our plant. Raw materials and supplies are analysed according to quality parameters defined in the laboratory, and these parameters are then recorded in specifications regarding raw materials and supplies in order to select our subsequent suppliers.