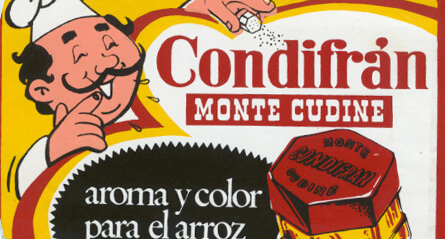 Spices and Aromatic Herbs
Historical Advertising
Modern life has modified people's eating habits. Prepared dishes and fast food are becoming more popular every day. However, we all value those special occasions when we enjoy a delicious dish prepared at home or at a fancy restaurant, where millenary spices know how to add a special touch to enhance the taste of food.
Likewise, in the last years people have started to use more spices and flavouring herbs in a number of different activities which include herb shops and aromatherapy. We now find that these herbs are indispensable in our kitchens, an essential ingredient in the art of combing delicious tastes in a dish and at the same they help us make it a healthy one.
We, at Monte Cudine, rescue nature's essence to put it right on your table.
Here follows a short description of some of the spices and herbs we use to manufacture our products.
Historical Video
is this
marcelo TI
Our brand and products in an original way, which was several times an innovation in those days. Throughout the years, the way advertising is made in the different media has evolved and Monte Cudine has accompanied those changes. Now, let's remember some of those renowned moments together.